​Kimiyo Matthews LMT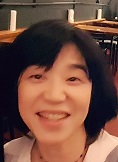 Education and Training
Graduated from Sun Institute, New Jersey School of Integrative Health in Closter, NJ
Licensed massage therapist in New York and New Jersey
Active member of ABMP (Associated Bodywork and Massage Professionals)
Certified in Yoga therapy and taught classes in New City Yoga Center for 2 years
Certified health coach
Practice Philosophy
I believed that everybody has healing power within himself or herself and we can maintain our health without too much involvement of doctors or specialists. When you give the control of your health over someone else's hand, you will lose freedom. It is very important to be able to make informed decision and be in charge of your own life and health. So I want to make good communication with you in order to get to know your physical condition well and be in same page with you to achieve your goal.
It is my pleasure to assist you with your journey to happiness and healthy life.
A little bit about me
I'm from Japan where massage is more naturally fitting into daily life - after all, you don't need license to give massage to your friends and family so anybody can do it. I'd been staying home mom for 14 years and it's so exciting to get out of my house and work as a professional. I enjoy being with people and learning new things.
My Story
I injured my shoulder in 2015. It was rotator cuff tear and I went to see massage therapists, orthopedist and chiropractor for several months and none of them helped me. I was asking myself, "Do I need to give up my career now as a massage therapist?" I was devastated and scared. That's when I came across with the book about trigger point therapy. I applied trigger point therapy to myself as I learned and I saw the effect right away! So I went to the massage therapist who does trigger point therapy and I was on the way to fast recovery.
There are many different types of massage and it is very important to find right type of massage according to your need. Especially, if you have orthopedic need like I experienced, you really need someone who is well trained. I am confident to say that massage therapy is more than just stress relief or relaxation. Well trained massage therapist can help you regain mobility, give pain relief, release muscle tension, help you correct postural distortion through small adjustment of your life style and simple exercise.